C4 Extreme Energy
Maximizes endurance during exercise
Amplifies focus and alertness
Enhances muscle pumps
Increases energy levels
Built to unlock next level energy and results, C4 Extreme Energy was formulated with clean, clear, and evolved formulas for explosive pre-workout performance.
Take your training to the next level with explosive C4 Energy Energy from 300mg of caffeine. Beta-alanine, creatine, arginine and other amino acids provide enhanced muscle strength and endurance, caffeine helps maintain a high energy level throughout the entire workout, while the added B group vitamins reduce tiredness, support metabolism and improve nervous system function.
Whether you're just starting a fitness journey or you're striving to reach that next level, C4 Extreme Energy will help you unlock your full potential.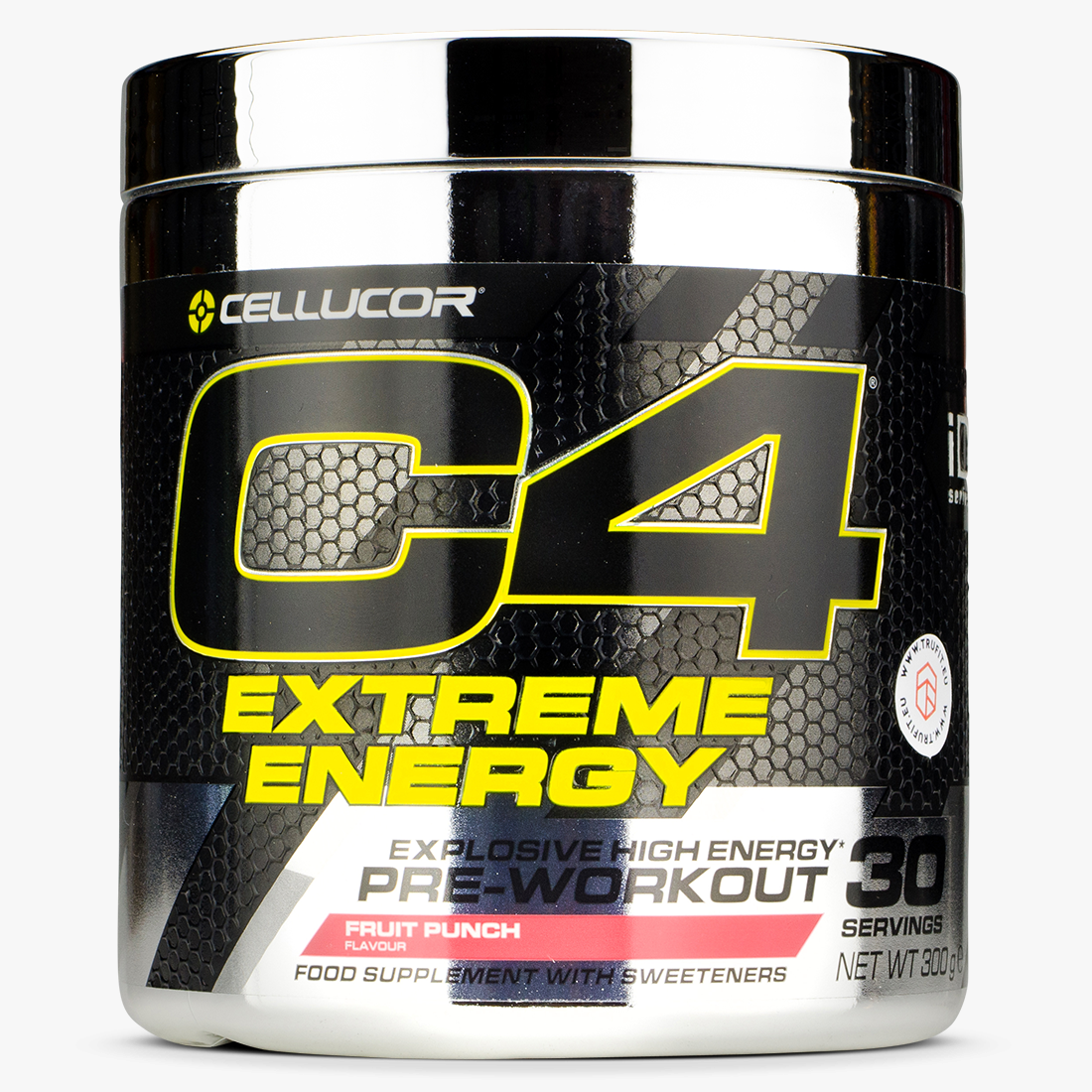 Directions
Take one serving (approx. 1 level scoop) of C4 Extreme Energy mixed with 250ml of water, 20-30 minutes before training.
ADVISORY INFORMATION:
Store in a cool dry place. Do not exceed the recommended daily dosage. Do not use as a substitute for a varied and balanced diet. Keep out of reach of young children.
Although we make every effort to ensure product information is up to date, please always read labels, warnings, and directions provided with the product. If in doubt, please contact us or check manufacturer web page for more information on product.
ID-11841
Nutrition Facts
1 Serving Size: 1 scoop (10 g)
Amount Per
1 serving
%DV*
Niacin
15 mg
94%
Vitamin B6
1 mg
71%
Folic Acid
200 mcg
100%
Vitamin B12
2.5 mcg
100%
Micronized Creatine Monohydrate
3409 mg
**
Creatine
3000 mg
**
Carnosyn Beta-Alanine
2000 mg
**
Citrulline Malate
2000 mg
**
Citrulline
1100 mg
**
L-Tyrosine
0.5 g
**
Caffeine Anhydrous
2300 mg
**
Panax Ginseng Root Extract
75 mg
**
Cocoa Seed Extractas Theobroma cacoa L.
75 mg
**
Toothed Clubmoss Aerial Parts ExtractHuperzia Serrata
5 mg
**
* Percentage of Daily Value per one full serving.
** Daily Value is not established.
Ingredients / Other Ingredients: Micronized creatine monohydrate‌, beta-alanine ​ (as ​Carnosyn)‌, L-citrulline DL-malate‌, anti-caking agent ​ (calcium silicate‌,silicon dioxide)‌, L-tyrosine‌, flavourings‌, caffeine anhydrous2‌, acidityregulator ​ (citric acid‌, tartaric acid)‌, bulking agent ​ (polydextrose)‌,sweeteners ​ (acesulfame K‌, sucralose)‌, Panax ginseng root extract‌, cocoabean extract ​ (Theobroma cacoa L.)‌, nicotinamide ​ (Niacin)‌, colours ​ (allurared (E129)1)‌, toothed clubmoss aerial parts extract ​ (Huperzia serrata)‌,pyridoxine-5-phosphate ​ (Vitamin B6)‌, Folic Acid ​ (Vitamin B9)‌,methylcobalamin ​ (Vitamin B12).